Gus M. Shihab, Esq.,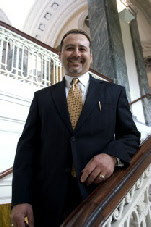 Founder of the Law Firm of Shihab & Associates, Co., LPA, received several honors and is a seasoned lawyer with more than 17 years of experience relentlessly fighting for the rights of international investors, businesses, corporations, employers, and immigrants and for the advancement of their causes. He has in depth understanding of immigration governmental processes both nationally and globally and provides practical business immigration solutions for international investors, corporations, colleges and university clients. Mr. Shihab represents corporations in the employment of highly skilled professionals and scientists in many areas including engineering, business, architecture, manufacturing, information technology and healthcare fields. Gus M. Shihab is a lawyer who works hard for his clients and maintains close relationship with them assuring that they are not left in the dark amidst the maize of governmental immigration procedures.
Mr. Gus M. Shihab is also a trial lawyer and has appeared on behalf of clients before State and Federal Courts as well as Courts of Appeals; one case was appealed to the United States Supreme Court, the highest Court in the land, challenging the retroactive application of certain immigration laws. He is a Life Member of the prestigious "Multi-Million Dollar Advocates Forum," a society of elite lawyers who secured two (2) Million Dollar or more settlement or jury verdict on behalf of their clients.
Mr. Gus M. Shihab has also been rated the highest possible rating a lawyer can receive by www.avvo.com, a website which assists the public in locating competent lawyers. This website described Mr. Shihab's performance of his legal abilities and ethical standards as "superb."

Mr. Gus M. Shihab has also been awarded AV Preeminent rating, the highest rating an attorney can obtain, by the independent firm of Martindale & Hubble for his legal and analytical abilities as well as his high ethical standard rating denoting adherence to professional conduct and ethics, reliability, diligence and other criteria relevant to the discharge of the legal practice.